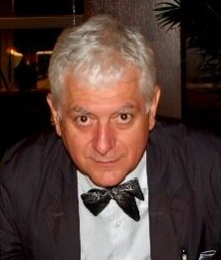 It is not often that you meet a Master Black Belt in Organisational Improvement who leads his entire life like a black belt. Anyone who has tracked in the Himalayas as often as Daniel (12 times) and is as well travelled as he is certainly gets our vote!
Daniel is an adventurer, both in his thinking and in his activities. We've even seen the phrase 'shaving yaks' in his profile and we bet that he even has a black belt in that! This management polymath also has a sensitive side as exemplified by the fact that he has published several volumes of poetry.
Professionally, he is all about helping to build high performing organisations and adding value to any business with which he is connected. His specific interest is Organisation and Process Improvement at strategic level and his starting point in creating high performing organisations is centred on customer needs, key performance indicators as well strategy. If you want both you and your company to start performing Daniel Ionita is definitely your 'go to' man.
Not only is Daniel a presenter but he's also a very well-known coach and mentor as well as being someone who certifies Lean Sigma Black and Green Belts and is very much in demand. Among his many professional activities he majors on coaching senior leaders to develop improvement strategies. There is no question that his work is effective as some of the improvement programmes he has driven have delivered savings of anything between $3-$20 million to his clients.
Daniel is one of those people who was always destined to run their own outfit through nothing more than the pressure of commercial demand for his services. Apart from all of his management qualifications, he also holds a psychology degree and, apart from having a partner in the business, he only employs part-time contractors as and when he needs them.
We reckon that any company that's been going for over 10 years with little sign of slowing down is already a success and although Daniel admits to only investing $10,000 in his start-up, we also suspect that he has already enjoyed a substantial return on its initial investment!
Daniel's only start-up regret was possibly that he wasn't 100% familiar with how to set up a partnership properly and he certainly reminds us of the value of knowing as much as you possibly can about how to structure your business from the outset.
Nowadays the only external help that Daniel uses are the common ones of bookkeeper, tax preparer, a website developer and some marketing – although much of his work is either by referral or from his existing client bank.
One question we always ask our guest entrepreneurs is "What percentage of your weekly hours are 'non-billable'?" In Daniel's case, it is between 20-30% – which is just about perfect for the sort of consultancy that he is involved in. However, Daniel does not classify himself as a workaholic and as with many of our guest entrepreneurs, works to live rather than lives to work.
Judging by the answers to our questions, Daniel is no shrinking violet and in all probability does not need to use 'affirmations' to tell himself that he needs to be more assertive and more confident or even more knowledgeable. For example, when asked the question, 'What are your primary reasons for not using any sort of coach or self-improvement techniques?' he was the first of our entrepreneur interviewees to answer that he 'knows everything'! In psychological parlance he is most definitely a 'conscious competent' – someone who definitely knows that he knows everything he needs to know!
This website is a great fan of Daniel Ionita for one very simple reason and that is because we can confirm his worth to a business – and it's personal! It was he who trained and helped our founder Olga Ramos to achieve Yellow Belt and Green Belt Lean Six Sigma. Daniel was her instructor/mentor.