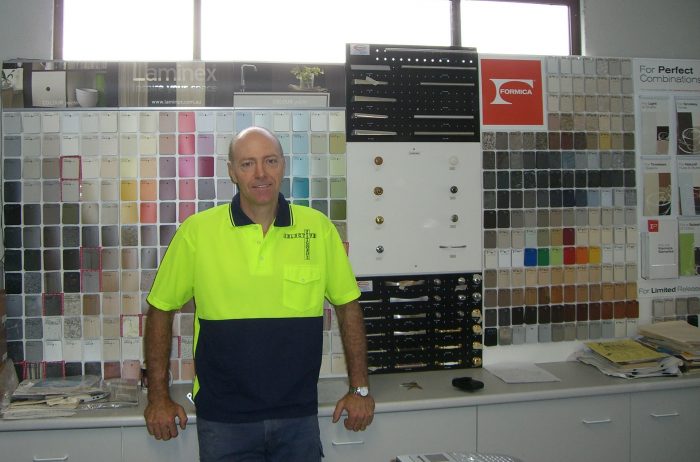 There is little doubt there are many occasions when the word 'entrepreneur' is misused. There are those who simply work for themselves, employ people and do not consider themselves as the classic entrepreneur. What defines people such as these is not networking, banging on doors, telephoning people, marketing and selling. They are defined by the quality of the product and by the excellence of their service.
Paul Lovett is such a man. He is a craftsman who happens to own Selective Kitchens and he employs people. Paul did not start his company. Instead, he spent many years working for the company, ultimately as foreman and when the previous owner retired, Paul bought the business. Yes, it was a risk, but Paul both knew and understood the business from floor-to-ceiling and, believed that it was a risk worth taking – and he has been proved right!
A well-established company such as Selective Kitchens could have closed down when the previous owner retired, with the loss of several jobs, but Paul took it on a few years ago and is now running it his way, and under his stewardship the company is continuing to go from strength to strength.
There's a lot to be said for the 'entrepreneur' who takes on an existing business and simply puts his own stamp on it, and the company seamlessly continues its relationships with both suppliers and customers as well as existing employees.
It's all very well, referring to every business as 'a company' but there are thousands of companies such as Selective Kitchens which are basically owned by a Sole Trader who happens to employ people.
No management structures, no personnel departments, no unnecessary meetings and everyone simply gets on with the job.
The move from foreman to owner obviously meant that Paul had a baptism of fire in that he suddenly had to understand all about not only accountancy and tax, but also had to form his own relationships with both existing and new suppliers.
As Paul's non-technical workload has increased, he's recently engaged a foreman to oversee the actual production. In order to both incentivise and motivate the new foreman, Paul has given him a small equity in the business.
Not unusually for someone who started on the shop floor, Paul continues to see himself as 'one of the boys' but feels that because he has actually done the job himself he has a far clearer understanding of all the practical issues associated with his business.
Nevertheless, he continues to work 90% of the time, although he feels that he has already achieved a perfect balance between work and his personal life, which is a sure sign that he has a very understanding wife and also that there are no young children in the Lovett household!
Talking to Paul, we can tell that he is a man totally at ease with both his business and his personal life and like many individuals who work for themselves, the line between personal life and business continues to be somewhat blurred. Nothing unusual in that because many of us who have worked for ourselves for any length of time tend to derive as much pleasure from our business life as we do from our home life.
One of the questions we always ask our subjects for this section of our website is what external service providers they use. Gradually we are finding that fewer and fewer business people are using external skills such as bookkeeping, tax preparation etc. because of the huge mass of information readily available on the Internet especially if you also consider all the specialised software that is also at our fingertips. Paul has taken full advantage of the modern environment and does not use any outside specialists.
As far as any non-production, technical and specialist issues are concerned, Paul finds that he can find all the information he needs and appears to have the sort of insight that any business owner or senior manager should have, in that he sees himself as running a simple business which is the production and supply of a high quality product………. and that's it!
Selective Kitchens is both a retailer and wholesaler in that it supplies kitchens, laundries etc. not only to builders and designers but also supplies the end-user with bespoke home improvements, ranging from wall units and storage to wardrobes and hand-made cabinets.
We're sure that Paul with his refreshingly down-to-earth attitude towards his business has many years of success and prosperity ahead of him.