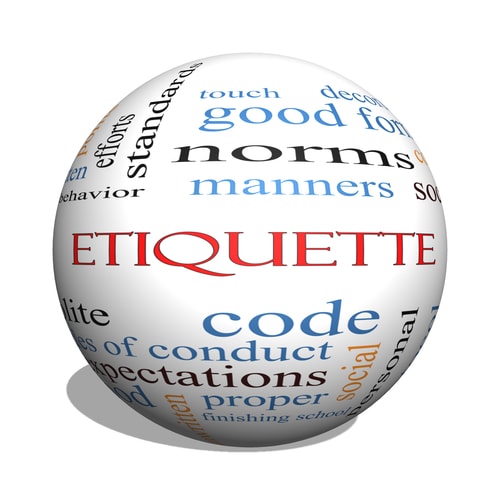 Ten Business Etiquette Rules
Even these days, when the majority of us spend our days sitting and glaring at a screen,with business lives nowhere near as socially varied as they used to be, there will come a time when you have to communicate and interact, not only with your own staff but with outsiders, and perhaps even people from a different culture.
It is of paramount importance therefore that you are aware of all the pitfalls of interacting with people. Of course, most etiquette comes with experience, but hopefully I can give you some 'pointers' which will prevent you from risking both your reputation and business by either saying or doing the wrong thing.
Incidentally, it is not just personal etiquette which is important but nowadays there is also email and telephone etiquette to consider.
Greeting. When you meet someone for the very first time there is a correct and a wrong way of addressing them. 'How do you do?' is not only the correct way to greet someone for the first time but is also the safest. 'How's it going?', 'Hi', 'Nice to meet you'…..and all the other phrases that people use are okay, but are not professional.
 The handshake. The handshake has to be firm, but do try and avoid either breaking someone's hand or alternatively, what is known as the 'wet fish' handshake which feels exactly as its name. When you shake someone's hand look them straight in the eyes and smile. Do not under any circumstances pump their arm up and down and risk pulling it out of its socket. Quite a bit can be established between two people by the humble handshake. For instance, a cold hand can indicate stress, whereas a hand offered to you palm down can suggest that the person whose hand you're shaking feels superior or self-important.
Kissing. There are some cultures, notably from hot Mediterranean climates, who have always been in the habit of kissing on the cheeks. The so-called 'Mwah, Mwah' double kiss or sometimes if you're French, 'the triple'. In Russia, even the most senior of men kiss each other on the lips whereas the English, who have adopted cheek kissing in recent years continue to look awkward by not knowing whether it's a kiss on one cheek, two cheeks or even which cheek to start with. My advice is to leave kissing alone.
Clothing (men). It is important that when you visit clients, you are aware of their 'dress culture'. For instance, if you are visiting a group of coders or programmers, they are most likely to be very informally dressed in say, T-shirts, Levi's, trainers and maybe with a comic sticking out of their back pocket. If you are over 30 do not even attempt to dress down to their level because it just doesn't work. By all means wear a suit and leave off the tie to indicate that you can be informal but never attempt to look like the oldest swinger in town. By the same token if you are greeting the directors of the company who are, let's say in the autumn of their years, they are likely to be slightly more formal and both your manner and your clothes should reflect that.
Clothing (women). Within your own office environment you do know what your dress code is but you should also be aware of the culture of any outsiders that you are going to come into
contact with. Being sensibly dressed is always less risky than being a little bit too adventurous. For instance, if you're attending a meeting, even when you are selling, do not display too much cleavage. It will not get you the business and if you are in a meeting it can be very distracting for the sad men around you.
Gossip. Never ever talk negatively about your fellow staff members, your employees and certainly not about your clients. One of the great and most important rules in any corporate environment or organisation is that there is no such thing as an 'Off the record' conversation.
Your employees. You should show exactly the same respect to your employees as you do to your customers. You should assume that they are trustworthy, hard-working and wanting to do their very best. In spite of the fact that you may pay their salary,you should always continue to say 'Please' and 'Thank you'.
Introductions. This may sound rather old-fashioned but there are just a few rules when you are introducing someone. Firstly, you introduce the junior person to the senior person rather than vice versa…… otherwise it is good practice to introduce the man to the woman. Incidentally, if you are introduced to a new person, whether a staff member or a client, LISTEN for their name and repeat it to them. You have no idea how important it is to a junior person when their boss remembers their name.
Swearing. We all use bad language for a variety of reasons. Some of us cannot help it, whereas others do it in order to create empathy or even to bond with peers. There's only one rule to remember. Do not swear in front of your staff and certainly not in front of your customers – even if they have a culture of swearing like a drunken sailor on shore leave.
Praising and Criticising. I see many managers who are not aware that there is even an etiquette attached to giving staff or even outsiders feedback. The rule is very is simple. Praise people in public and if you do have to criticise someone, do it behind closed doors. If you are criticising someone or questioning the quality of their work, remember one other thing. As an employer, you only have the right to their time and one thing you certainly do not have any right to – their self-respect. That belongs to them.
This list of just 10 points is merely scratching the surface of what could potentially be quite a minefield, but hopefully by highlighting what I consider to be the 10 most important things to look out for will help you in both your internal and external professional dealings.