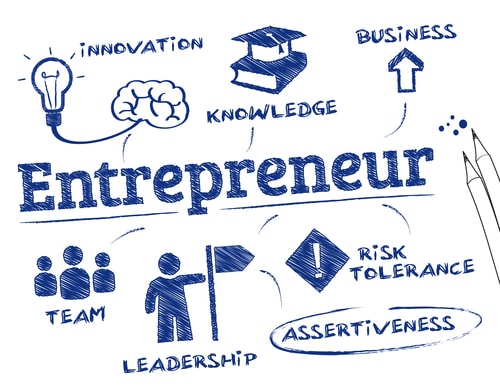 The Soft Skills of Entrepreneurship and How to Develop Them
You've probably heard of soft skills and wondered what they were! In order to highlight the difference between your hard skills and soft skills, let's start with your hard skills.
Hard skills are your technical skills, your degrees, your other qualifications your professional experience – everything to do with your profession or what you do.
As your career and your life progress, and when your time at University or when you studied have become the dim and distant memory, it is your soft skills which are going to help you up your career ladder – whether it is as a company employee or a business owner.
Your soft skills are best described as your HUMAN and personality-based skills.
Imagine the scenario of two absolutely equally qualified individuals with exactly the same degree from exactly the same university with exactly the same amount of experience. You have to hire one of them – which one would you choose and what would your decision be based on? The answer is that you will pick the one with the human skills which either most mirror your own skills or you will simply take on the one you think that you will be able to work with based on his or her social skills.
For an entrepreneur, having those extra social human skills, otherwise known as soft skills can be the difference between success and failure.
Whether you like to hear this or not it is a fact that as an entrepreneur – you are a salesman – and if you'll excuse the cliché, people buy people.
Again, if you and a competitor with exactly the same product and find yourselves in front of a client, you may think that you're competing on price and a lot of other parameters, but in fact, you are most likely to be persuading through the use of your soft skills.
So how do you acquire these soft skills? Your previous jobs, life experiences, hobbies, responsibilities, etc. have helped you to form soft skills you probably never knew that you had. Soft skills tend to be those informally acquired general skills such as time management, communication, the ability to listen etc. You can be coached soft skills, of course, but most of the soft skills you acquire are a function of time and experience.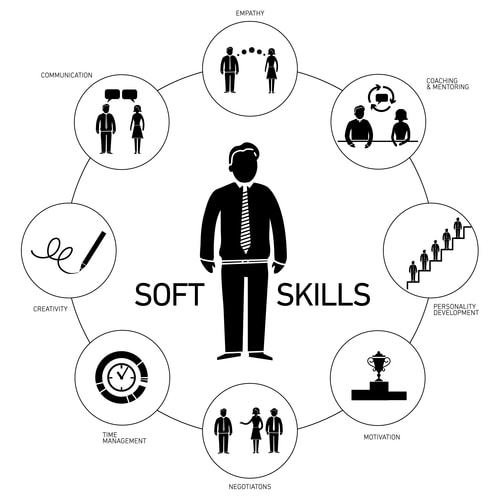 Let us start with what I consider the most important soft skill for any budding entrepreneur – the Skill of Communication.
Yes, we can all talk and we know all the words – and yet some people can talk in such a way that everyone listens. How do they do that?
Then there are others who write beautifully. They have learned to communicate through the written word and if you've read a novel recently and you could not stop reading, that is because the person who wrote it is an extremely skilled communicator.
As an entrepreneur, you need to be able to explain your product or service to a potential customer in very simple terms. If your product is a little technical, you can kill a sale by trying to impress your potential customer with too much jargon and technical nonsense. As an entrepreneur, the purpose of your communication may not be to inform, but to persuade.
Far too many times, I've actually witnessed individuals who think they are selling when in actual fact all that they are achieving is putting their potential customer to sleep!
One of the most difficult things that all entrepreneurs and business people experience is that moment when they have to ask their potential client for the business because they dread hearing the words ' let me think about it' or 'let me discuss it with our accounts department' or 'send me an email' or 'I will get back to you next week'.
Once you become an expert communicator, both in listening, writing as well as speaking, you will realise that all the above phrases mean 'No thanks.'
If there's one skill that you absolutely have to develop as an entrepreneur, it is the skill of effective communication.
There is another raft of interpersonal skills which you may wish to think about. For instance, there will be a time when you need to work in a team. Do you have the personal skills to sit back and listen to one of your employees taking the lead?
That naturally leads me to another skill which you will definitely need and that is assertiveness.
Your adaptability is going to be yet another skill because you are going to have to adapt to change and you will also be required to multitask. Your work surroundings will change, the economy will change, the marketplace will change and you have to be able to adapt.
The good news is that you will gradually acquire all the soft skills you need through a natural process of osmosis. In addition, as you progress through life, you can attend various courses if you are aware of what your 'blind spots' are.
This website is not only going to be about the technical aspects of running a business. We hope to have a whole series of articles which hopefully will go into far more detail on each soft skill in order to help you to plan your own improvement.